Global Biobank Directory, Tissue Banks and Biorepositories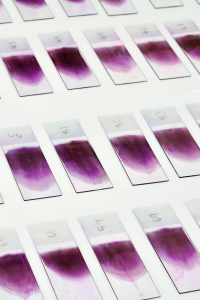 Following is the world's most comprehensive directory of biobanks, tissue banks and biorepositories that collect blood, whole blood, buccal swab, DNA, RNA, protein, cell lines, marrow, plasma, serum, RBC, white cells, buffy coat, fluid, urine, stem cells, and solid tissue such as tumor, tumour and biopsy materials spanning all types of common and rare pathologies and indications including Alzheimer's, basal cell carcinoma, bladder cancer, bone cancer, brain cancer, breast cancer, cerebrospinal fluid, amniotic fluid, colorectal cancer, colon cancer, hodgkins and non-hodgkins lymphoma, kidney/renal cancer, leukemia, multiple sclerosis, liver cancer, lung cancer, melanoma, neurodegenerative diseases, ovarian cancer, pancreatic cancer, prostate cancer, synovial fluid, urinary cancer and more.
Please note that Specimen Central has no control over the accuracy or legitimacy of content on third party sites or the services they offer, so we urge scientists to use common sense and caution when interacting with biobanks or organization listed in this biobank directory. By using this site, or any of the content or links listed here, all visitors agree that they have sole responsibility for evaluating the legitimacy of third party organizations. Specimen Central cannot be held responsible for the outcome of any introduction we make. All vendors who list on our directory must follow all appropriate local laws and international guidelines for the handling, storage and distribution of biospecimens. If it comes to our attention that any organization listed here fails to follow proper procedures, they will be removed from our listing.
We would very much appreciate it if research organizations that acquire samples from the biobank directory listed here could provide us with feedback describing your experience. We plan to eventually use your feedback to develop a biospecimen provider rating system. For researcher feedback to be considered, researchers MUST contact us from their institutional email address.
All links last verified April 20, 2015. Contact us to update your organization's information or request inclusion of your biobank in the Specimen Central biobank directory.
---
Global Regions
EUROPEAN BIOBANKS
NORTH AMERICAN BIOBANKS
ASIAN BIOBANKS
AUSTRALIAN BIOBANKS
MIDDLE EAST BIOBANKS
ANIMAL & PLANT BIOBANKS
---
Canada Biobanks
US Biobanks