About Us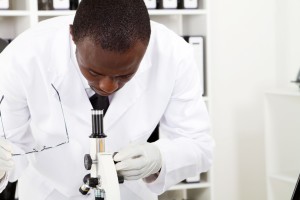 Specimen Central is maintained by a group of volunteer scientists from the pharma, biotechnology, biorepository and life-science research fields. We all have other full-time jobs, and we maintain this site as an industry service to help address the critical need for ethically-collected human samples in the biomedical industry. In essence we are a matchmaking and educational organization dedicated to facilitating: a) The transfer of biospecimens from organizations that have them to researchers that need them. b) The dissemination of useful scientific and regulatory information and resources related to the collection, storage, distribution, processing, management and laboratory use of human tissue samples in scientific research. c) A place for researchers to exchange information related to human sample procurement.
On this site you will find a frequently updated directory of known biorepositories, biobanks, and biospecimen suppliers that we hope researchers can use to find the specimens they need. If you are an academic, commercial, or government biobank, please contact us to add your organization's information to our listing. If you are a medical organization with a tissue archive and IRB approval to legally repurpose no-longer-needed specimens and human tissue samples for use in research, we encourage you contact us to learn more about ways to donate these samples to reputable biobanks. In the US this will generally mean FFPE blocks that have exceeded 10 years of age and can now be de-identified and repurposed for use in research according to College of American Pathologist (CAP) guidelines.  If you are a researcher looking for samples, feel free to contact any of the organizations in our directory directly, or if you want want free expert assistance, contact Specimen Central with the specific details of your study using our Request form. We will use our extensive database and industry experience to try to locate a suitable source for you. In some cases, we may charge a nominal fee or commission for exchanges we arrange so that we can continue to host this site and cover our expenses.
Monitoring your requests and maintaining this directory of biobanks takes time and money.
For commercial organizations with a budget, we suggest that a small percentage (~ 1-3%) of any transaction we assist you with be sent to Specimen Central as a donation to help us cover our costs. We have provided a "donate using paypal" link on the right to facilitate this.
Whenever possible, and especially for academic labs, we will always try to make suitable introductions between researchers and biobanks or specimen procurement organizations for free.
This site also aims to provide other resources for scientists, histologists, and students including articles and protocols that we hope you will find useful. If you would like to contribute an article or protocol, please feel free to use the submission form. You are welcome to request that we keep your real name on submitted content so that you and others can cite the work appropriately, or you can choose to submit anonymously if you prefer.
Specimen Central was founded in Minnesota, USA, and we have partners world-wide who assist us with our efforts to match providers with qualified scientific organizations. We consider ourselves to be a global organization. Inquiries from outside the US are welcome.
Unfortunately, we have no control over the accuracy or legitimacy of content on third party sites or the services they offer, so we urge scientists to use common sense and caution when interacting with biobanks or organization listed in our directory. By using this site, or any of the content or links listed here, all visitors agree that they have sole responsibility for evaluating the legitimacy of third party organizations. Specimen Central cannot be held responsible for the outcome of any introduction we make, and we cannot offer any warranties or assurances on specimens obtained as a result of introductions that we arrange. Biospecimen Central has no control over fees charged by providers for their tissue procurement services. All vendors who list on our directory must follow all appropriate laws and regulations for the handling, storage and distribution of biospecimens, and any organization that fails to do so will be removed from our listing. We are developing a rating system for listed providers, and we encourage researchers to tell us about the outcome of any introductions we make, or about their experiences with providers listed on our site. For this feedback to be considered, researchers MUST contact us from their institutional email address.
If you have questions or comments please contact us at specimencentral@gmail.com